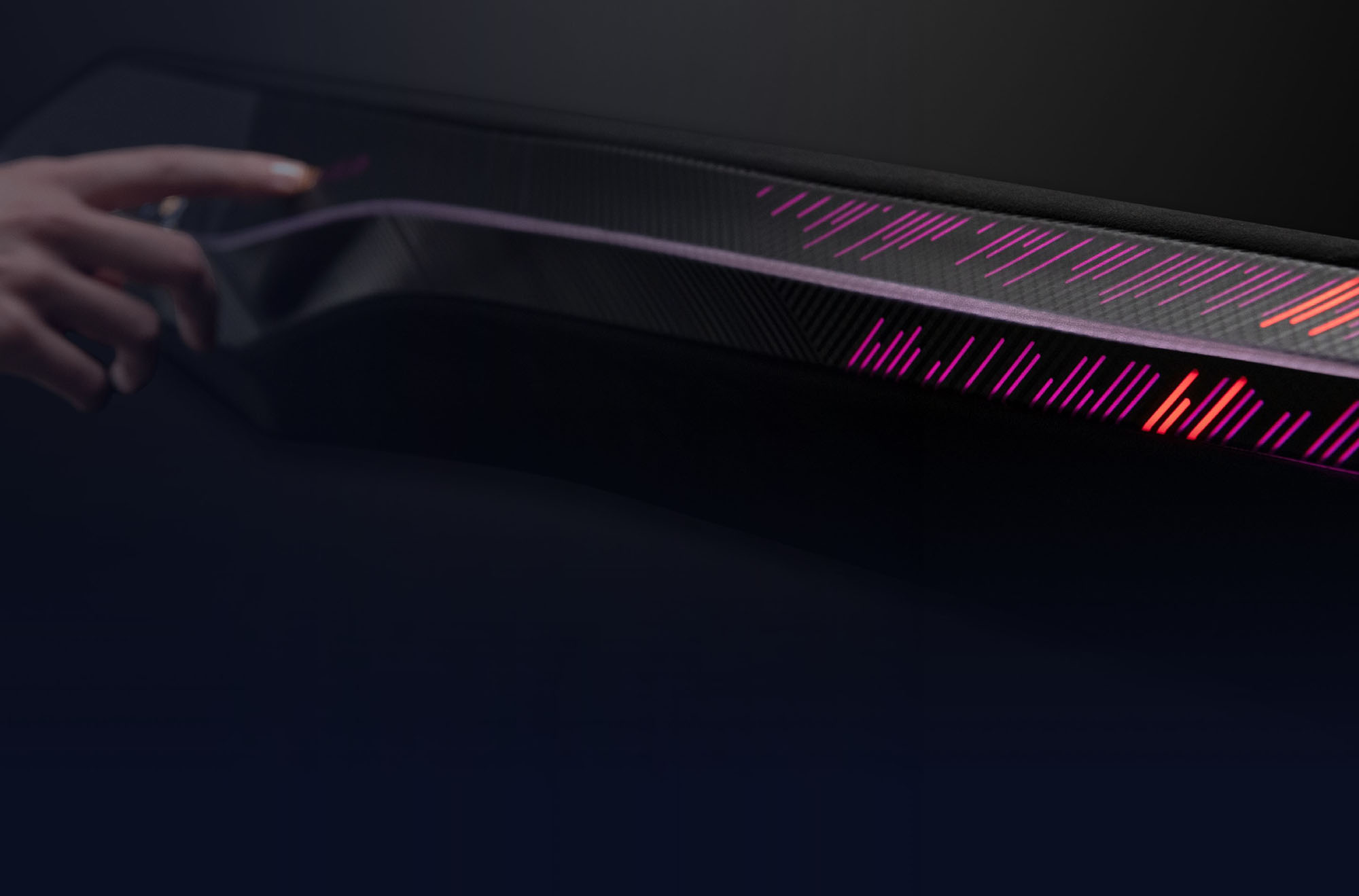 Functional Foil Bonding
Precise sensor operation in the car
Smart cars are unthinkable without touch, gesture, and proximity sensors. With Functional Foil Bonding, KURZ has developed a process with which they can be integrated into two- and three-dimensional geometries of already manufactured components with the highest precision and excellent adhesion. Sensor integration can be directly connected to the injection molding process. Keen to discover the best way to integrate this step into your value chain? Then let's talk!
In vertical stamping, the molded plastic part is first fully automatically inserted into the machine. In a second step, a PET substrate with silver-based metal mesh structures is layered over it with high precision. These functional structures are characterized by high mechanical flexibility and can thus be used with bent and arched components. As the processed sensors are highly transparent, they are ideal for display applications. Due to the fully automatic heatable die which moves up and down, the two material components are seamlessly connected.
In Functional Foil Bonding with roller embossing, the molded plastic element that already features the design is precisely positioned on a material substrate in the machine before the highly sensitive sensors are applied with pinpoint accuracy. As a result, a heatable embossing wheel lowers precisely over the two elements and ensures perfect connection through optimum pressure and precisely metered heating.
KURZ has developed the semi-rotative roll-on embossing process for displays. This allows you to integrate displays up to 8" in size.
In addition, sensors can be integrated using In-Mold Electronics: Decoration, sensor integration, and injection molding of the component take place in a single work step. Decor and sensor foils are inserted into the tool cavity. When the tool is closed, the component is formed in the injection molding process. At the same time, the decor on the front and the sensors on the back are applied securely and precisely.
FFB is superior to other sensor integration methods such as OCA. This is demonstrated, for example, by environmental cycle tests in the automotive industry. While the adhesion of the OCA adhesive can deteriorate over time under harsh conditions such as climate and weather changes, the sensors integrated with the FFB process stay put long term. Even after dozens of applications. Furthermore, they are recyclable and don't impair the recyclability of the surfaces.
FFB - high-tech for any surface
Car drivers want to be reachable anywhere and at any time. In terms of functionality, this means: Connectivity without limits. The PolyTC® sensors from KURZ subsidiary PolyIC make every surface an intelligent interface. With Functional Foil Bonding, the wafer-thin sensors are integrated in a stable manner and remain adhered. As the sensors are made of wafer-thin metal mesh structures on transparent PET carriers, the conceivable design possibilities are virtually endless. Even lighting-related applications are possible, such as reading lamps in the roof-lining.
Advantages at a glance:
3D-moldable sensors
Homogeneous surfaces
Shy Tech design possible
Touch functionality
Gesture control
Backlighting
Haptic feedback
Light design
Lighting-related functions possible
Ambient lighting