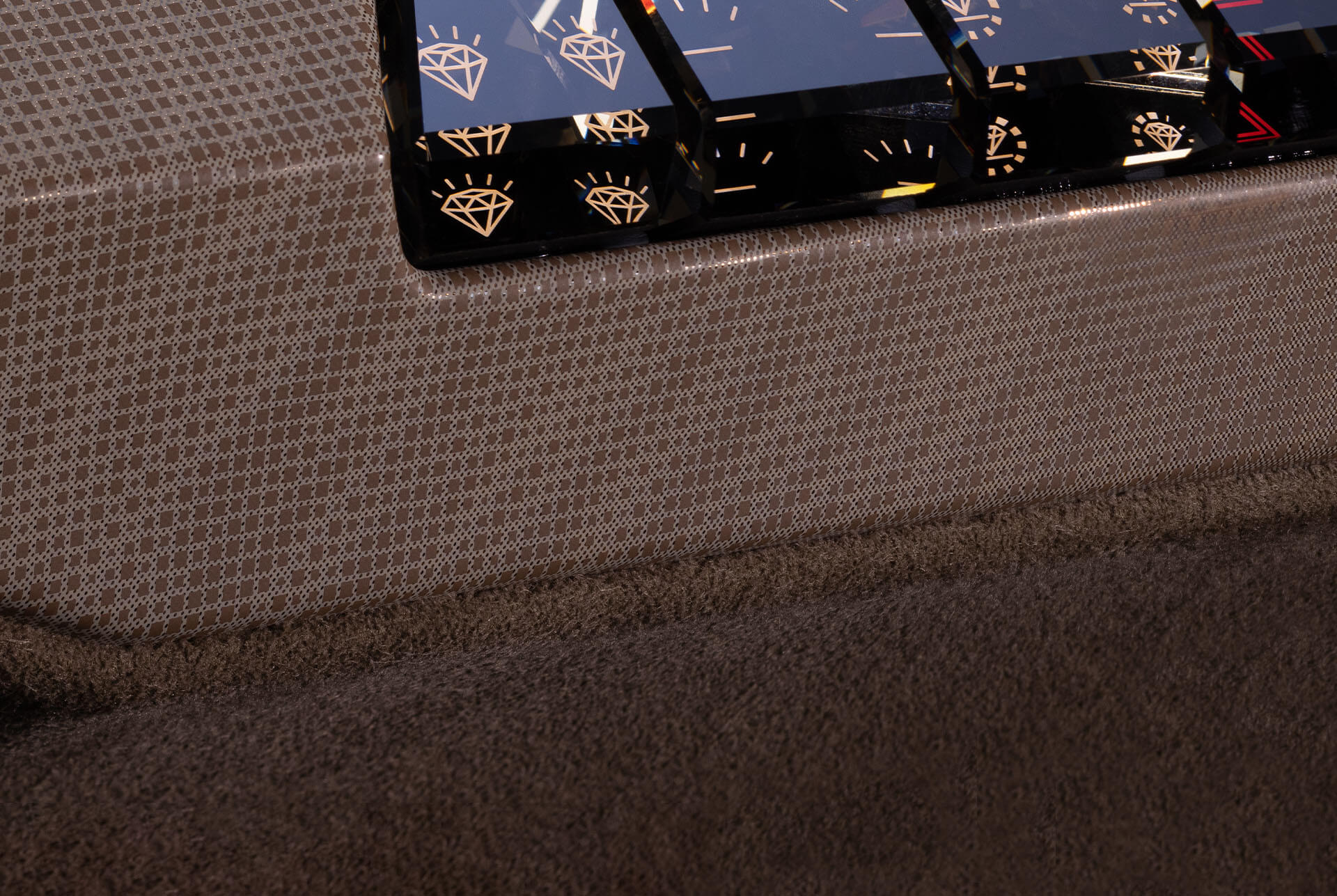 AUTOMOTIVE SMART SURFACES
Crystal Design Luxury
The trend towards luxurious interiors bears the hallmarks of two strong partners: Swarovski and KURZ. Handmade crystals in the interior merge with design and sensor technology to form a futuristic unit. The 3D component is created in several variations using the Print Mold Decoration (PMD) process, with crystals that match the color of the look. Touch operation and backlighting perfect the fascinating combination.
Be inspired by the new luxury in the interior!
EXPERT TALK
KURZ & SWAROVSKI
What would be the outcome if high value crystals were combined with smart sensor technology, plus innovative and haptic surface decoration? The result would be a luxury Human Machine Interface panel – a functional component for vehicle interiors. Through the innovative sensor technology of the KURZ group, handmade SWAROVSKI crystals can become a functional and attractive automotive component. The haptics of crystals are not known by many customers yet, so the opportunity becomes more interesting for companies within the luxury segment.
We proudly present the sustainable concept 'Crystal Design Luxury', which has been developed in collaboration with SWAROVSKI. Please enjoy the talk by three experts!
Functionality meets luxury design
The expertise of the KURZ Group and Swarovski complement each other perfectly here. The design and decoration technology from Burg Design also includes indium-based metallization, highly transparent sensor technology from KURZ subsidiary PolyIC, and handmade touch-capable crystals from Swarovski. This results in smart and functional interior worlds that support technologies for autonomous driving and are unparalleled anywhere in the world.
Partners for
new
experiences
When two experts join forces, unique creations emerge. The new KURZ design concept with handmade, touch-sensitive crystals from Swarovski adds a touch of luxury to the interior. New-generation surfaces integrate Shy Tech and day-night designs to perfection.